03.07.2023
PIV welcomes new employees
The Prüfinstitut Schlösser und Beschläge Velbert (PIV) has now welcomed two new employees. Sven Bunge (36) has already taken up his position as a tester on 1st of May 2023. The trained metalworker in the field of construction technology is responsible for all relevant activities in the laboratory according to DIN EN ISO/IEC 17025:2018-03. This includes, for example, planning, setting up and carrying out tests. Both the mechanical and mechatronic tests on locks and fittings as well as windows, facades and doors must be documented. Determining the serviceability and ageing of building products, components and accessories of building products as well as tests in burglary protection are also part of his area of responsibility.
The same applies to Till Zegenhagen (29), who started his job at the PIV on 1st of July this year. After training as a tool mechanic in the field of stamping and forming technology, he completed his technician's degree in mechanical engineering while working. Before joining PIV, he worked for a hardware manufacturer in neighbouring Heiligenhaus for seven years.
Both Sven Bunge and Till Zegenhagen will carry out external tests at customers and will be successively deployed in the accredited test areas according to accreditation certificate D-PL-11024-01-00. With the new appointments, the Quality Association for Locks and Fittings, to which the PIV belongs, is reacting to the increasing number of orders in the testing institute. "With Sven Bunge and Till Zegenhagen, we have gained two excellent colleagues who complement our team of 12 in the best possible way," says Andrea Horsthemke, Director of the Institute.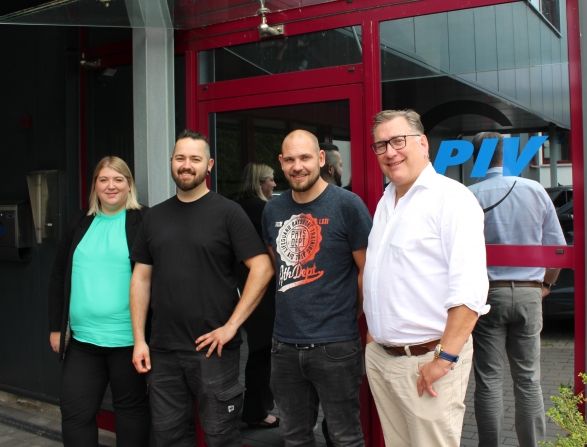 Happy about the new employees: PIV Director Andrea Horsthemke and Managing Director of the Quality Association for Locks and Fittings with Till Zegenhagen (r.) and Sven Bunge (l.).