News of 28 September 2020

Burglary protection for motorhomes: Promobil as guest at PIV
As burglary protection is also important for motorhomes, the magazine Promobil is currently working on an article on this topic. For research purposes, the editorial staff recently visited the Testing Institute Locks and Hardware Velbert [Prüfinstitut Schlösser und Beschläge Velbert (PIV)].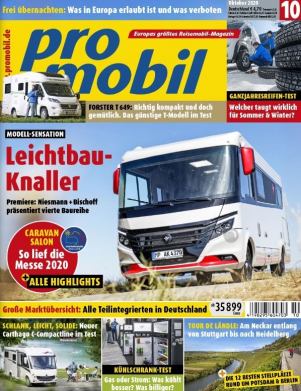 The magazine Promobil is published monthly by Motor Presse Stuttgart with a paid circulation of around 70,000 copies. Target group are drivers and people interested in motorhomes. The magazine reports all about the caravaning scene. The focus is on vehicle and accessory tests and new product launches. Readers will also find travel reports, practical tips, service and advice topics.
Motorhomes generally have yielding walls and simple locking cylinders and are therefore not sufficiently protected against break-ins. Therefore, additional locks for doors and windows are also important for motorhomes. In order to improve the protection against burglary, it is first and foremost necessary to secure the cab doors and the body door. In addition, however, the windows should also be secured, as they too are relatively easy to open from the outside.
In order to test some of the products offered on the market and have them looked at by an expert, the Promobil editorial staff brought along various products during their visit to the PIV. Here they took a closer look at the eight locks. Some were easier to open than others, but the conclusion of the day was still: Each of the products is better than taking no precautions at all against a break-in!
The article will appear in the November issue of Promobil.

Picture: Motor Presse Stuttgart